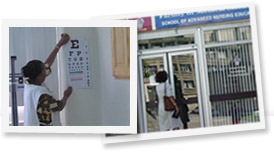 To be a dynamic force in the nursing arena of T&T and the Caribbean with international collaboration that would enhance the stature of nursing education in the region. Its focus is to provide a foundation for advanced learning and graduate studies in nursing and other related fields.
Our Mission

To be the'HUB' of academic developement & advancement for the Nursing & Midwifery personnel in T&T and the wider Caribbean Region. It aims to provide a seamless transition through undergraduate, graduate and continuing education levels and meeting the needs of the individuals. Its focus is to prepare Nursing leaders who will facilitate the delivery of an enhanced level of care to the people of the Caribbean.
Our Goals

The goals of the School are:

To provide a post-basic programme at the undergraduate level for professional nurses in the Caribbean with Clinical Preceptorships at a variety of health care agencies.
To provide leadership and direction for the progressive development of the nursing profession of the region.
To strengthen nursing as a viable research-based academic discipline; and
To ensure the organizational and administrative infrastructure for the sustained expansion of advanced educational programmes for nurses
Our Environment

The environment is conducive to learning. Students find a relaxed environment where learning is fun and is conducted in an atmosphere in which cross cultural and regional integration are encouraged. Students of various cultural backgrounds throughout the Caribbean fulfill their career dreams at the School of Nursing.