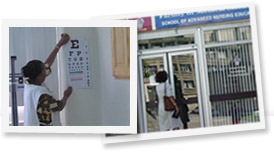 Message From the Director
Dr. Oscar Noel Ocho

Director,

The UWI School of Nursing

It is my pleasure to welcome you to an enriching academic experience as a part of UWISoN.

Our School was established in 2005 with a mandate to produce a cadre of nursing leaders at the clinical, administrative and academic levels.

We offer a number of programmes from the Pre-Registration BScN for persons wishing to become Registered Nurses as well as the Post-Registration BScN and MScN for persons desirous of developing specialist skills and competencies in nursing.

These specialties prepare nurses to assume leadership positions at all levels of nursing within the particular disciplines. Our programmes offer students a robust academic experience in an environment that is conducive to effective teaching/learning.

As you explore our website and consider the programme offerings available be assured that our cadre of competent staff looks forward to welcoming you as well.