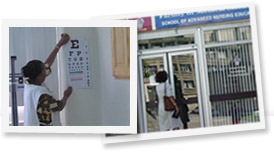 The UWI School of Nursing offers undergraduate and postgraduate programmes aimed at nursing professionals, delivered both electronically and face to face.
Our programmes are guided by our mission, vision, goals and objectives, which comply with the mission of The University of the West Indies, and established standards of professional nursing organizations worldwide.
The school engages in local and regional policy making forums, research activities and publications. We also network with international nursing leaders and academic institutions.
---
Take a look at our exciting new Bachelor of Science in Nursing Degree - Pre Registration! This Programme is tailored to candidates who are not Registered Nurses.
Click here for further information.
---












Explore our website to discover the wide range of nursing possibilities that we have to offer!
---