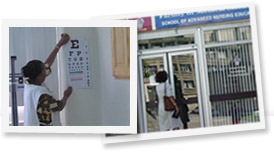 The UWI School of Nursing offers an online postgraduate programme, the Master of Science in Advanced Nursing Degree (MScN). The MScN aims to counteract the expanding demands on health care which continues to increase the need for suitably qualified Health Care Professionals.
The MScN targets leaders, teachers and advanced clinicians, preparing them for practice. In its initial stages the programme seeks to specialize specifically in the area of Nursing Education and focuses primarily on theory, research and clinical practice.
The MScN offers revolutionary and exciting approaches to education such as Distance Education, Teleconferencing, Computer Assisted Instruction and Mentoring.
To obtain additional postgraduate information you may refer to the Faculty of Medical Sciences Postgraduate Information Guide, provided on the website link below:
For information on how to apply to our Postgraduate Programme visit:
To apply, visit the page below:
Master of Science in Advanced Nursing
The MScN is an online programme, offered over one calendar year in three semesters. The MScN comprises compulsory and elective courses. Two areas of specialization within the MSN are provided below:

You may view more information and the course listing by visiting the website links below:

To obtain additional postgraduate information, you may visit the websites below: