Geology
Fossils and Minerals
The museum has a small collection of fossil and mineral specimens. Most of them were collected by Bob Kennedy from sites all over Trinidad.
The fossils include molluscs, crustaceans, annelids and plants as well as several trace fossils such as worm burrows. There are also a few fossils collected by J. Kenny and Mary Alkins-Koo.
For more information on fossils in general click here 
There is also a small collection of minerals and rocks which were used for teaching purposes. 
For more information about local geology go to the website of the Geological Society of Trinidad and Tobago - click here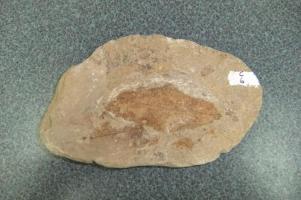 Leaf fossil from the Kennedy collection
Last updated 28 June 2018