What's up in Life Sciences
June 10th, 2020
First female Professor of Science
Head of the Department of Natural Sciences at the University of the West Indies Professor Judith Gobin is the first female to attain Professorship in the Natural Sciences discipline. She talks about World Ocean Day, 'innovation for a sustainable ocean', her journey to this goal of professorship, gender equality and other related issues.
June 8th, 2020
UWI DCFA Visual Arts students celebrate World Oceans Day 
It's World Oceans Day! The Visual Arts Unit at the UWI Department of Creative and Festival Arts (DCFA), Faculty of Humanities and Education, celebrates with an online catalogue of artwork by students. See their various perspectives as they take creative action to support efforts to protect and restore our shared ocean. Students spent time with Professor Judith Gobin, Professor of Marine Biology and Head of the UWI Department of Life Sciences, who gave insights to the critical role the ocean plays in sustaining life on earth. The artworks are the outcome of research and reflection on ocean environmental issues. Images include a look at the endangered Green Turtle and bold statements about plastic pollution.
 View the work here: https://bit.ly/2Y8eX79
Deep-Ocean Stewardship Initiative for World Oceans Week 2020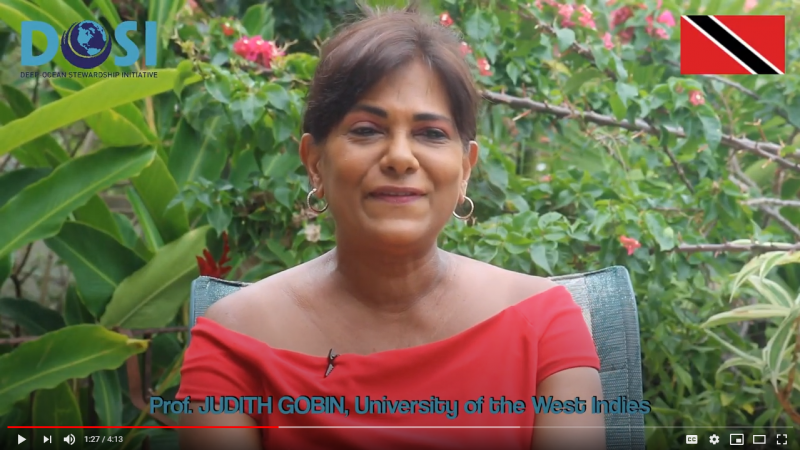 For UN World Oceans Day on Monday 8th June, we asked 12 deep-sea scientists from the DOSI network around the world, what their favourite deep-sea image was, and why. Find out what happened. Fast forward to 1:27 and you'll see our Head of Department of Life Sciences, Professor Judith Gobin.
https://www.youtube.com/watch?v=uY6_nIlT0QY&feature=youtu.be
May 1st, 2020
Secondary Forests: Why they Matter for the Planet
Haley Arnold spent a year as a visiting postgraduate at the Department of Life Sciences during 2018/19. Part of Haley's work involved surveying the abandoned cocoa estates of Trinidad to explore how the diversity of various plants and animals change over time as secondary forest regenerates. Haley recently presented some preliminary results as a Trinidad and Tobago Field Naturalists' Club public lecture. These suggest that even secondary forest growth on previously disturbed land can be important habitat for a wide range of species. She is supervised by Professor Anne Magurran at the University of St Andrews, and DLS's Dr Amy Deacon. We wish Haley all the best with writing up her PhD thesis and hope that she'll visit Trinidad again soon!