Mr Shane T. Ballah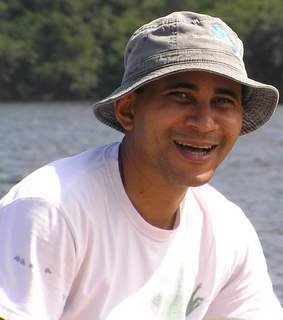 Contact Information
Department of Life Sciences
The University of the West Indies
St. Augustine, Trinidad and Tobago
Location
Professor Peter Bacon Postgraduate Lab
Natural Science Building 
Tel: 1(868) 662-2002
Ext. 83084
Ph.D. Candidate – Plant Science, The University of the West Indies, St. Augustine, Trinidad 2018 – Present
M.Phil. – Plant Science, The University of the West Indies, St. Augustine, Trinidad 2004
B.Sc. – Botany and Zoology (Hon.), The University of the West Indies, St. Augustine, Trinidad 1997
Project Details
Title: 'The Diversity and Ecophysiology of Bryophytes as Indicators of Hydrology in Trinidad and Tobago'
Summary: Bryophytes are known to exhibit high levels of diversity and occupy a large variety of habitats in tropical forests. They are an important component of forest ecosystems and are a notable feature of the epiphytic community. In Trinidad and Tobago, as plant group, they have not been as well studied as their vascular relatives. The liverworts in particular are also underrepresented in the local herbarium collections. The distribution patterns of stable isotopes, abundance and diversity of epiphytic bryophytes have been shown to correlate with altitudinal variation on the continental mainland. The current research investigates these distribution patterns and diversity of bryophytes on an island scale across the Northern Range of Trinidad and Main Ridge of Tobago. Specific objectives include the estimation of the species richness and diversity of bryophytes and identification of spatial and seasonal patterns in oxygen and carbon stable isotopes in rainfall, atmospheric water vapour and tissue (water and organics) of bryophytes in response to altitudinal variation.
Supervisor: Prof. John Agard
Co-supervisors: Prof. Howard Griffith (Cambridge) and Dr. Mike Oatham
Advisory Committee member: Ms. Yasmin Baksh-Comeau
Work Experience
STB Consulting, Trinidad & Tobago – Owner and Lead Consultant – 2014-present
The National Herbarium of Trinidad & Tobago, UWI, St. Augustine- Research Assistant – 2016-2019
Environmental, Health & Safety Unit, Ministry of Works and Transport, Government of Trinidad & Tobago – Biotic Impacts Specialist – 2002-2013
Ecoengineering Consultants Limited, Trinidad & Tobago - Consultant Ecologist/Botanist – 1997-2002
The National Herbarium of Trinidad & Tobago, UWI, – Technical Assistant I - 1999-2000
Additional Professional Activities
Team leader - National Wildlife Survey, Chaguaramas Forest Reserve, Trinidad, April 18-22 2015
Facilitator - Sweet Broom and Bitter Bush, Workshop on Caribbean Indigenous Medicine, 2014
Member - National Coordinating Body for Implementing Trinidad and Tobago National Awareness Seminar and National Action Programme for the United Nations Convention to Combat Desertification (UNCCD) 2005-2008
Member - Cabinet appointed Committee to Coordinate the Development of a National Programme of Action for the Protection of the Marine Environment from Land-Based Sources and Activities. 2005-2007
Publications 
Shane T. Ballah and Peggy-Ann DeSilva, 2011, Competencies and Skills for Effective Implementation of Comprehensive Disaster Management in the Ministry of Works and Infrastructure (MOWI). 6th Annual Caribbean Conference on Comprehensive Disaster Management, Hyatt Regency, Port of Spain, Trinidad.
Shane T. Ballah and Michael P. Oatham, 2011, Does Heliconia hirsuta (Heliconiaceae) gain a fitness advantage from its ant visitors? Living World Journal of the Trinidad and Tobago Field Naturalists' Club Supplement No 2, August
S.T.Ballah and C.K. Starr, 2010, Composition and Activity of Ant Visitors to Inflorescences of Heliconia hirsuta (Heliconiaceae), Sociobiology Vol. 56. No.3.
Carol L. Ramjohn, Floyd B. Lucas, Floyd E. Hayes, Shane T. Ballah, Nicholla C. Johnson, and Keisha M. Garcia, 2003, Lek mating behavior of the Sooty-capped Hermit (Phaethornis augusti) in the Paria Peninsula of Venezuela, Journal of Field Ornithology, Vol. 74,3 205-209.
C.E. Seaforth, S. Ballah, S. Rollocks, S. Craig-James, 2000, Medicinal Plants used in Tobago, Fitoterapia 69:523-527.
C.E. Seaforth, S. Ballah, S. Rollocks, and S. Craig-James, 1999, Herbal Medicine from Tobago, Herbal Medicine in the Caribbean p 9-11.
Professional Associations
UWI Alumni Association, Trinidad & Tobago Chapter (UWIAATT)
Trinidad and Tobago Field Naturalists' Club (TTFNC)