Dr Amy E. Deacon
Lecturer in Zoology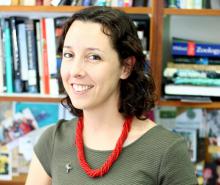 Natural Sciences Building, Room 219, New Wing.
Department of Life Sciences
The University of The West Indies
St. Augustine
Trinidad and Tobago
Telephone: 1(868) 662 2002 ext 83093

Email: amy.deacon@sta.uwi.edu
Click
here
to visit my website.
Qualifications
Ph.D. Behavioural Ecology, University of St Andrews, Scotland, U.K.
M.Sc. Marine Biology, University of Bangor, Wales, U.K.
B.A. Biological Sciences, University of Oxford, U.K.
Fellowships and Training
Postdoctoral Research Fellow (2010-2015), ERC-funded 'BioTIME' project, University of St Andrews.
Certificate in University Teaching and Learning (2016-2017), UWI
Research Interests
Temporal patterns of biodiversity
Effects of human disturbance on aquatic biodiversity
The Trinidadian guppy as an invasive species.
Behavioural ecology of invasive species
Professional Experience
Assistant Editor (2004-2005), Nature Publishing Group, London.
Research Assistant (2004), Lakes of the Rift Valley Project, Kenya.
Featured Work
Single Wild Female: https://sta.uwi.edu/uwitoday/archive/january_2012/article1.asp
River Limes Affect Fish: http://www.guardian.co.tt/lifestyle/2016-02-18/river-limes-do-affect-fish-and-their-homes
UWI Service
Outreach Representative for the Department of Life Sciences
Public Service
Associate Editor, Aquatic Invasions and Bioinvasions Record (2016 - present)
Secretary, Trinidad and Tobago Field Naturalists' Club (2015 - 2019)
Editor, Living World, Journal of the TTFNC (2016 - present)
Advisory Partner, International Year of the Reef, T&T: https://sta.uwi.edu/uwitoday/archive/may_2018/article9.asp
Courses Taught
ESST1004 - Science Communication
BIOL2262 - Evolutionary Biology
BIOL3867 - Animal Behaviour
BIOL3462 - Ecology of Freshwaters