Professor John B.R. Agard
Professor of Tropical Island Ecology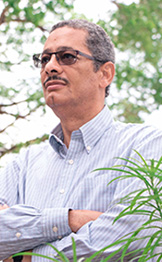 Department of Life Sciences
The University of The West Indies
St. Augustine
Trinidad and Tobago
Telephone: 868-662-2002
ext 82046, 84485

Fax: 868-663-5241

Email: John.Agard@sta.uwi.edu

Publications
Qualifications
Ph.D. Zoology, University of the West Indies, Trinidad and Tobago.
Postgraduate Diploma, Systems Analysis and Design (with Distinction), NIHERST, Trinidad and Tobago.
M.Sc. Pollution & Environmental Control (with Distinction), The University of Manchester, U.K.
B.Sc. (General) Chemistry and Zoology (with Honours), UWI, Trinidad and Tobago
Public Service
2010- Lead Author, Small Islands- Chapter, Inter-Governmental Panel on Climate Change (IPCC) 5th Assessment Report.
2009-2011 Member Independent Advisory Group (IAG) on Environmental and Sustainability Safeguards Policy to the Board of the Inter-American Development Bank (IDB), Washington D.C., USA.
2009- Member, Research Committee, Iwokrama International Centre for Rainforest Conservation and Development, Guyana.
2008-2011 Member, Caribbean Sea Commission, Association of Caribbean States (ACS).
2008-2009 Member CARICOM Climate Change Task Force.
2005-2008 Chairman, Board of Directors, Environmental Management Authority of Trinidad and Tobago (EMA).
2008-2012 Member, Board of Directors and Trustee, The Cropper Foundation (TCF), Trinidad and Tobago.
Research Projects
Project for Ecosystem Services (ProEcoServ) For more info: www.proecoserv.org Local: www.proecoservtt.org)
Global-Local Socio-economic Climate Change Scenarios for the Caribbean (GoLoCarSce) For more info: www.golocarsce.org
Nariva Swamp Restoration and Carbon Sequestration Project