Dr Mark Hulme
Lecturer in Zoology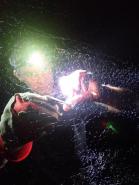 Natural Sciences Building, New Wing
Department of Life Sciences
St. Augustine
Trinidad and Tobago
Telephone: 868-662-2002 ext 82206

Email: mark.hulme@sta.uwi.edu
Qualifications
PhD: University of St Andrews UK "Density and diversity of birds on farmland in West Africa"
MSc: University of Reading UK "Wildlife Management, Conservation and Control"
BSc (Hons): University of Durham UK "Molecular Biology and Biochemistry"
Fellowships and Training
I have completed training courses in, among others, R software, SAS software, ArcGIS software, Distance software, bird banding and wilderness first aid.
Research Interests
Conservation science, particularly relating to birds and the impacts of human land use; tropical ecology; ecosystem services; bird migration; animal behaviour; wildlife population surveys and monitoring.
Professional Experience
I have spent a number of years working for conservation NGOs on varied ecology and conservation projects on four continents, in particular for the British Trust for Ornithology (BTO) and the Royal Society for the Protection of Birds (RSPB).
In addition, I have been involved in work for environmental consultancies and ecotourism in the UK, Africa and South America.
Featured Work
I have recently worked on the impact on wildlife of cocoa farming in tropical forest in West Africa, as well as the potential impacts of wildlife on cocoa, such as through crop raiding.
A lead-author paper in Agriculture, Ecosystems and Environment journal suggests that cocoa crop raiding by primates could be offset by achievable yield increases.
Skills
I have a wide experience of multi-species surveys of birds and mammals in tropical and temperate environments.
I have very varied expertise in research relating to tropical agriculture and biodiversity as well as of assessment of ecosystem services.
I have extensive data analysis and mapping experience, being a user of multiple software packages including ArcGIS, QGIS, R, SAS, SPSS and Distance.
Extensive bird banding / ringing experience in several countries.
Public Service
I have been involved in many citizen science projects contributing to biodiversity and ecology data collection across the globe.
I have mentored several aspiring African scientists who have already gone on to accomplish great things for research and environment on their continent.
Courses Taught
BIOL 1263 Living Organisms II
BIOL 2464 Fundamentals of Ecology
BIOL 3867 Animal Behaviour