Dr Sephra Rampersad
Senior Lecturer in Biochemistry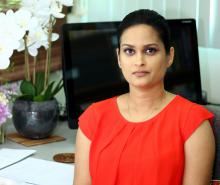 Natural Sciences Building, Old Wing, Room 319
Department of Life Sciences
The University of The West Indies
St. Augustine
Trinidad and Tobago
Telephone: 868-662-2002 ext 83109

Fax: 868-663-5241

Email: Sephra.Rampersad@sta.uwi.edu
Publications
Qualifications
Ph.D. University of The West Indies (2004)
B.Sc. (Hons) General with a major in Biochemistry (1997) UWI.
Fellowships and Training
University of Oxford, UK. Short Course in (i) Immunology: A pathway through the maze and (ii) Quality assurance in the laboratory - 2006.
Postdoctoral fellow at ICGEB, Ca' Tron, Italy. Short Stay – 2005.
Scientific Officer for EU-sponsored project in Department of Life Sciences, The University of the West Indies, St. Augustine – 2002-2003.
Research Interests
Application of molecular ecology tools for studying population genetics and genetic diversity
The innovation, development and assessment of molecular approaches for pathogen characterization
The innovation and development of biochemical methods for bioactive compound screening
Characterization of plant diseases and pathogen profiling and identification of epidemic-associated factors affecting plant diseases
Featured Work
Ramdial, H., De Abreu, K. and Rampersad, S.N. 2017. Fungicide sensitivity among isolates of Colletotrichum truncatum and Fusarium incarnatum-equiseti Species Complex infecting bell pepper in Trinidad. Plant Pathology Journal – In Press.
Ramdial, H., Hosein, F.N., Rampersad, S.N. 2016. Detection and molecular characterization of benzimidazole resistance among Colletotrichum truncatum isolates infecting bell pepper in Trinidad. Plant Disease. DOI: http://dx.doi.org/10.1094/PDIS-09-15-0995-
Rampersad, K., Ramdial, H., Rampersad, S.N. 2016. Utility of internally transcribed spacer region of rDNA (ITS) and β-tubulin gene sequences to infer genetic diversity and migration patterns of Colletotrichum truncatum infecting Capsicum spp. Ecology and
Ramdial, H., Hosein, F.N. and Rampersad, S.N. 2016. First report of Fusarium incarnatum associated with fruit rot of bell peppers in Trinidad. Plant Disease. 100: 526. DOI: http://dx.doi.org/10.1094/PDIS-05-15-0550-PDN. IMPACT FACTOR in 2015: 3.02.
Ramdial, H., Rampersad, S.N. 2014. Characterization of Colletotrichum spp. causing anthracnose of bell pepper (Capsicum annuum L.) in Trinidad. Phytoparasitica 43: 37-49. DOI: 10.1007/s12600-014-0428-z. IMPACT FACTOR in 2015: 0.901. Cited in 11 publicatio
Rampersad, S.N. 2014. ITS1, 5.8S and ITS2 secondary structure modelling for intra-specific differentiation among species of the Colletotrichum gloeosporioides sensu lato species complex. SpringerPlus 3:684. DOI: 10.1186/2193-1801-3-684. IMPACT FACTOR in 2