Professor Indar Ramnarine
Indar Ramnarine is a Professor of Applied Ichthyology (Fisheries and Aquaculture). He began his term as Deputy Principal at the St. Augustine Campus in August 2017.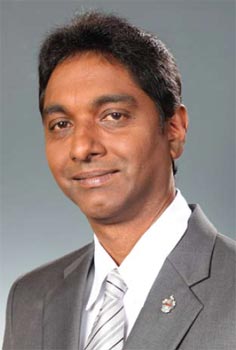 Academic Career
Professor Indar Ramnarine holds a Bachelor's degree in Agriculture from The UWI, St Augustine (1980); an MSc degree in Fisheries Biology & Management from the University of Wales, Bangor; and completed a PhD at The UWI, St, Augustine (1992) on Biology, Nutritional Requirements and Culture of the Cascadu under the supervision of Professor J.S. Kenny. He also holds an MBA with a specialization in Human Resource Management from the Heriot-Watt University/Edinburgh Business School (2001). He began his academic career at The UWI in 1985 when he joined The UWI Department of Zoology as a Teaching Assistant, then became Assistant Lecturer in 1987, and was then promoted to Lecturer in 1989. Professor Ramnarine was promoted to Senior Lecturer in 2002 and then to Professor in May 2008. In 2012, he was appointed as Dean of the Faculty of Science and Technology until August 2017.
Research
Professor Ramnarine is considered to be an expert in aquaculture and fisheries management and has done voluntary work in aquaculture in Jamaica, Guyana, Suriname, Nepal, Bangladesh, Thailand and Cambodia. His primary research interest is in aquaculture development and sustainability; working on species such as cascadu, tilapia, prawns, shrimp, crabs, oysters and river conch. He also has a deep interest in fish biology and the development of sustainable fishing methods in Caribbean Fisheries. His research has yielded one book, one monograph, three book chapter, 60 publications in refereed journals, 16 refereed conference proceedings, 13 refereed abstracts, 18 workshop papers and 10 technical reports. He has successfully supervised eight Ph.D. and 12 MPhil students pursuing higher degrees in fisheries science and management, aquaculture, fish and shellfish diversity, and behavioural ecology of the guppy.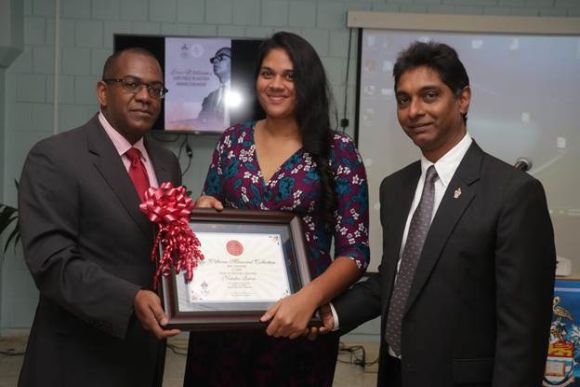 Professor Ramnarine Presents Award to Top CAPE History Student
Public Service
Chairman, Board of Governors, Institute of Marine Affairs
Deputy Chairman of the National Environmental Assessment Task Force
Past Chairman of the University School Council
Past Deputy Chairman of the Fisheries Monitoring & Advisory Committee of T&T
Former member of the National Wetlands Committee of T&T
Past President of the Aquaculture Association of T&T
Publications