Lepidoptera (Butterflies and Moths)
Phylum: Arthropoda Class: Insecta Order: Lepidoptera
Butterflies and moths are one of the most popular groups for insect collectors due to their bright colours and ease of collecting. There are over 180,000 species recorded worldwide.
For more information on lepidopterans in general click here
Trinidad & Tobago Lepidoptera
In Trinidad and Tobago over 760 species of butterflies have been recorded, however this is just a small fraction of the Lepidopterans present as it is estimated there are over 3,500 species of moths. 
For more information about some of the butterflies found in Tobago click here 
For detailed species lists for some of the major Lepidoptera families found in T&T see these following papers by Matthew J.W. Cock:
Castniidae of Trinidad & Tobago
Hedylidae and Hesperiidae of Trinidad
Papilionidae, Pieridae and Nymphalidae of Trinidad
Mimallonidae of Trinidad & Tobago
For profiles of selected species click here
UWIZM Collections
The Lepidoptera in the UWIZM come from three main sources, the oldest are the three wooden cabinets of the Sir Norman Lamont collection from the 1910s to 40s, these contain more than 2300 individual moths and butterflies. Next are the UWI collections of three cabinets, started in the 1920s at the time of ICTA  and continued to the present day, containg around 1400 individuals. Finally the CABI collection of 12 cabinets of specimens collected from the 1970s to 80s consists of around 8300 specimens. 
The specimens range from the huge beautiful blue morpho butterflies to tiny brown Pyralid moths. 
Highlights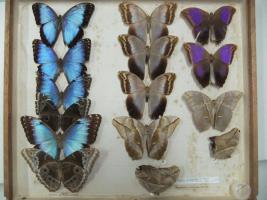 Drawer of Morpho butterflies from the Lamont Collection
Silkmoth (Automeris egeus) collected by Matthew Cock in 1978
Last updated 20 June 2018