Tabaquite Bioblitz 2019
The eighth Trinidad & Tobago Bioblitz was conducted on the 1-2 November 2019, in and around Tabaquite, central Trinidad. Around 200 volunteers took part in the surveying, and more than 100 members of the public attended the accompanying outreach activities at the Tabaquite Secondary School on Sunday 2nd.  A total of 674 species were reported after 24 hours.
Here is a map showing the surveyed area and position of basecamp: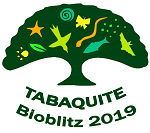 The event was also covered by various print and online news outlets:
https://newsday.co.tt/2019/10/27/bioblitz-2019-goes-to-tabaquite/ 
http://asawright.org/wp-content/uploads/2020/01/2019_11_BELLBIRD.pdf 
https://herpetologytt.blogspot.com/2019/11/
https://sta.uwi.edu/fst/lifesciences/tabaquite-bioblitz-2019 
 Issue 4/2019 of the TTFNC's Quarterly Bulletin, The Field Naturalist, was dedicated to the Tabaquite Bioblitz. Click here
 The Tabaquite 2019 Bioblitz Final Report is available for download as a PDF. Click here. 
Thanks to all the groups and individuals who took part.