BACHELOR OF SCIENCE IN INTERNATIONAL RELATIONS (SPECIAL)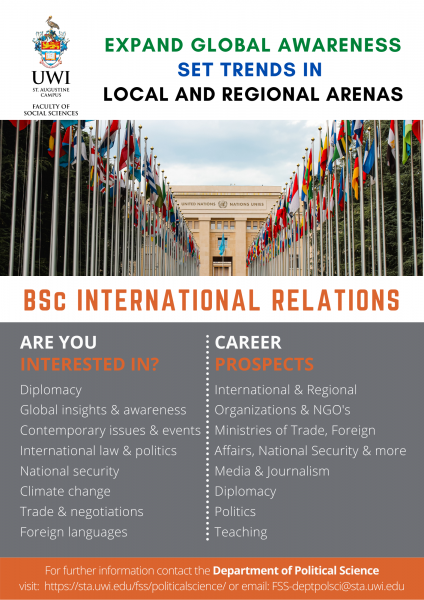 The B.Sc. (Special) in International Relations is a degree programme (full-time/part-time) consisting of 30 courses (90 credits). It provides an in depth understanding of International Relations in both the practical and theoretical arenas with a special emphasis on the Caribbean region.
The Minor in International Relations consists of five level II and III courses. It is designed to help students from non-IR programmes to acquire an understanding of International Relations that will usefully complement their main specialisation.
Target Audience

Students (traditional students with O' / A' level qualifications)
Diplomats
Public servants
Private sector persons employed in private institutions who wish to gain insights into the theories and practices of international relations
Employees in regional and international organizations (e.g., CARICOM, United Nations, World Trade Organization)

Careers in IR:

Foundation into Diplomacy
International & regional organisations
Multinational corporations
International non-governmental organisations
Ministries of Trade, Foreign Affairs & National Security
Government ministries
National & International media
Politics
Teachers
Journalists
 

Interesting accomplishments for DPS Alumni

Careers at the Ministry of Foreign and CARICOM Affairs 
Careers at the UN and other multinational organizations
Careers at Government Ministries
Matriculate to Postgraduate and Masters programmes at the Institute of International Relations
Holders of national, regional and international scholarships, bursaries,  awards and academic prizes
Youth Ambassadors
Representation in Model UN
Internships in international organizations
Consultants on major national, regional and international projects/initiatives
Diplomats
Lecturers/professors at tertiary level
Experts used in the media at all levels to impact public affairs
Published authors in international relations research