BACHELOR OF SCIENCE IN POLITICAL SCIENCE (MAJOR)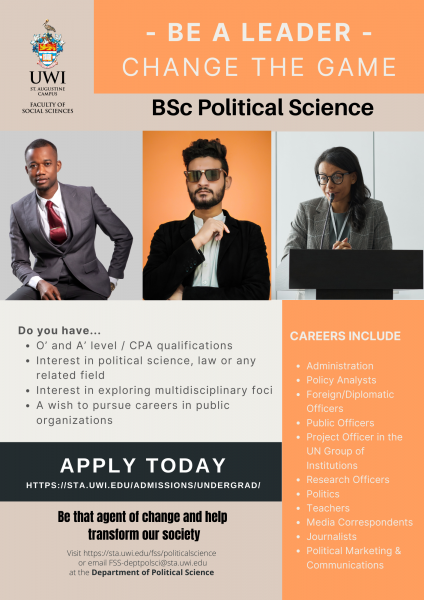 The B.Sc. in Political Science is a degree programme (full-time/part-time) consisting of 30 courses (90 credits). It provides students with a broad understanding of political theories, systems, public policy and how these interplay on an international, regional, local and public spheres.
This degree is offered as a major, a joint major, and minor or two, which can serve as a compliment to your programme and understanding of political science.
Target Audience

Persons with O' and A' level / CPA qualifications
Persons who are interested in political science, law or any related field
Persons who are interested in exploring multidisciplinary foci
Persons who wish to pursue careers in public organizations

Careers in Political Science:

Administration
Policy Analysts
Foreign/Diplomatic Officers
Public Officers
Project officer in the UN Group of Institutions
Research officers
Politics
Teachers
Media Correspondents
Journalists
Political Marketing & Communications

Interesting accomplishments for DPS Alumni

Ministers of Government
Senators
Local Government Councillors
Serve on commissions of enquiry and state boards
Consultants on major national, regional and international projects/initiatives
Holders of national, regional and international scholarships, bursaries, distinguished national awards and academic prizes
Experts used in the media at all levels to impact public affairs
Published authors in political science research