Jorge Luis Morejon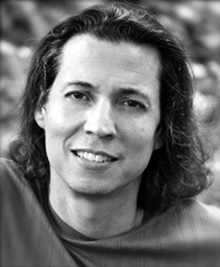 Jorge Luis Morejón has experimented with artistic genres as diverse as theatre, opera, dance and performance. Most notably, he has appeared in Sleepless City, The Maids, Divide Light: A New Opera, The Ten PM Dream, The Elephant's Graveyard, Hinterland and The Winter's Tale. Dr. Morejón directed Matias the Aviator, Three Greek Women and Rabinal Achi. He was the Artistic Director of Thelos Theatre and the Executive Director of Multicultural Performance Space Camera Obscura from 204 to 2006. He has choreographed Carnival Miami, Lulabi, Footprint, Farenheight 411, and My Hands /Tus Brazos.

Parallel to voice, dance and theatre training with Prometeo Theatre, Creation Ballet and Teatro della Radicci, Dr. Morejón earned a Bachelor's degree in Special Education from Florida International University in 1998. He did Master's level studies in Expressive Arts Therapy at the European Graduate School in Switzerland in 2000 and 2002. He earned a Master's degree in Liberal Studies with an emphasis in Theatre from the University of Miami in 2006. He taught Dance and Expressive Movement at Miami Dade College and New World School of the Arts from 1993 - 2006.

From 2006 to 2008, Morejón did doctoral level work in Theatre Studies at York University in Toronto, Canada. In 2011, he graduated with a Ph.D. in Performance Studies with a designated emphasis on Practice as Research from the University of California, Davis. Since then he has presented in over 25 conferences and published several academic papers. From 2011 to the present, Dr. Morejón has been a Lecturer in the Department of Creative and Festival Arts, DCFA, The University of the West Indies, St. Augustine, Trinidad and Tobago. Currently, he is the Coordinator of the Dance Unit at DCFA.

In Trinidad, he has co-directed the production Reawakening the Caribbean Spirit at Scherzando Panyard and directed the play Maria Antonia. He also performed in Carpentier in Barbados, Barbados, where he will soon exhibit his first art series Espresso Raft Prayer. He has recently danced in Interloop, Miami, and created the performance piece The Power of Expression performed in Florida and New York. Currently, he works towards obtaining his certification in Dance/Movement Therapy at the Harkness Dance Center, New York City.