Peter Weller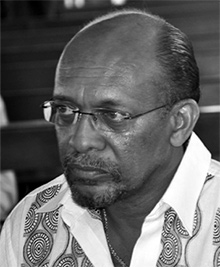 Peter Weller is a Jamaican born, Trinidad and Tobago residing, Caribbean man, husband, father and Clinical Psychologist (PhD, Emory University). A "people watcher", problem solver, advocate, and educator by nature, Dr Weller is currently the Co-coordinator of the MSc Clinical Psychology Program and Practicum, in the Faculty of Medical Sciences at The Eric Williams Medical Sciences Complex at The University of the West Indies, Trinidad and Tobago where he also lectures in Individual and Group Psychotherapy.

Dr. Weller is a member of the Caribbean Network for the Study of Masculinity and is co-founder and current President and Chairperson of the Caribbean Male Action Network (CariMAN www.cariman.org). You can learn more about his work from his TedX talk @ https://m.youtube.com/watch?v=FyVqKydor9U.

He currently serves on the Executive Steering Committee of the international entity, MenEngage Alliance, an alliance of NGOs working together with men and boys to promote gender equality (http://menengage.org), and has also been an advisor to the Gender Specialist at CARICOM .

CariMAN
CariMAN is an NGO registered in Trinidad and Tobago (www.cariman.org), and involved in various projects across the region to achieve its mission "to engage Caribbean men and to partner with women in the examination of existing beliefs and norms, the promotion of respect for diversity and the development of new paradigms and competencies, thus creating opportunities to negotiate new relationships in order to achieve gender justice, social harmony and peaceful partnerships".