Patricia Mohammed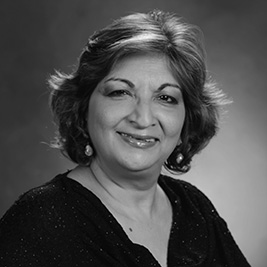 Patricia Mohammed is a scholar, writer and filmmaker. She is Professor of Gender and Cultural Studies and Campus Coordinator/Chair, School for Graduate Studies and Research at the University of the West Indies, St. Augustine, a post she has held variously since 2007. She has headed the Institute for Gender and Development Studies at St Augustine for various periods and from 1994-2002 was appointed as first head of the Mona Unit, Centre for Gender and Development Studies, UWI. For the Fall semester 2007 she was Visiting Professor at State University of New York at Albany and has had visiting fellowships at University of Warwick and Queen's University, Belfast. She was a recipient of the Vice-Chancellor's regional award for Excellence in Research at The UWI in 2015.

She is a pioneer in second wave feminism and the development of gender studies at Tertiary level in the Caribbean and has been involved in feminist activism and scholarship for over two decades and increasingly over the last decade in Cultural Studies. She has been the architect of four national gender policies for the Caribbean. Her academic publications include Gender in Caribbean Development (Ed), 1988, Rethinking Caribbean Difference, Special Issue Feminist Review, Routledge Journals, 1998, Caribbean Women at the Crossroads, UWI Press, 1999, Gender Negotiations among Indians in Trinidad, 1917 – 1947, Palgrave UK and The Hague, 2001, and Gendered Realities: Essays in Caribbean Feminist Thought, (ed) University of the West Indies Press, Kingston, 2002, and Imaging the Caribbean: Culture and Visual Translation, Macmillan UK, 2010 along with over 100 essays in journals and books, magazines and newspapers.

Her main areas of interest are gender and development studies, history and the study of aesthetics and visual intelligence. She has directed and produced 13 documentary films among Engendering Change: Caribbean Configurations (40) minutes, a six part series entitled A Different Imagination of which "Coolie Pink and Green" 2009 and "City on a Hill: Laventille" (40 mins) co-directed with Michael Mooleedhar are award winning films.