Geraldine Elizabeth Skeete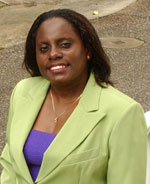 Geraldine Elizabeth Skeete holds a B.A. (First Class Honours) and a PhD degree (with High Commendation) in Literatures in English from The University of the West Indies, St. Augustine Campus. Her awards include a Dean's Award for Postgraduate Research, a UWI Postgraduate Scholarship and a Most Outstanding PhD Thesis Award for 2006/2007.

She has taught at the primary, secondary and tertiary levels. At present, she is a Lecturer in Literatures in English at UWI's Department of Liberal Arts, Faculty of Humanities and Education, St. Augustine.

Her doctoral thesis examined the topic "A Discourse of Alternative Sexuality in Anglophone Caribbean Literature" (2007), with specific emphasis on the prose fiction of contemporary writers. Her research interests include change and development in Caribbean literature and Stylistics.
.