Lawrence Waldron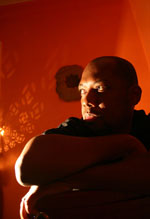 Lawrence Waldron received his primary and secondary education in Trinidad, at Our Lady of Fatima in Laventille, and St. Mary's College in Port-of-Spain respectively, before moving to New York in 1985. In 1993, he graduated from New York's St. John's University with a BFA in Fine Arts, and attained an MFA in Illustration from School of Visual Arts in 1998. From 2000 to 2010 he did Ph.D. studies at the City University of New York's Graduate Center in the subject of Pre-Columbian art and architecture, with minor concentrations in "Non-Western" (i.e., African, Asian, Native North American and Pacific Islander topics), Latin American and Modern art. He received his Ph.D. in 2010 after successfully defending his dissertation on early Amerindian ceramics of the Lesser Antilles.

For over a decade, Waldron has been an exhibiting artist, and an instructor of art history and studio art at St. John's and the City University of New York. He has published and presented at conferences several essays on the arts of the ancient Americas; the colonial and modern Caribbean; South Asia and Southeast Asia; and Islamic Spain and Africa. He is currently conducting research on the architecture and music of Trinidad and Tobago alongside his ongoing research on the Pre-Columbian Caribbean.

He is a member of the International Association for Caribbean Archaeology, the Caribbean Studies Association and the Art Society of Trinidad and Tobago.
.