Carmen Hutchinson Miller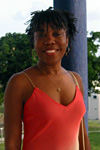 Carmen Hutchinson Miller is an Afro-Costa Rican, born in the Port of Limón. She is a member of the Caribbean díaspora and a third generation descendant of Jamaicans who migrated to Costa Rica in the late 19th century.

Carmen Hutchinson Miller is the Research Assistant, Editorial Assistant of the Working Paper Series, and a part time lecturer at the Centre for Gender and Development Studies: Nita Barrow Unit at the Cave Hill Campus in Barbados.

Ms Hutchinson Miller brings to the Centre a number of social skills that are well utilized in this Unit. Her experience as a committed feminist, and black consciousness activist equips her to engage in a number of outreach activities that the Centre organize. She is completing a Ph.D. in History at the Cave Hill Campus.