June Castello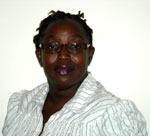 Ms. June Castello has spent much of her working life in educational institutions as teacher and senior administrator. She is currently is a Lecturer in the CGDS, Mona Unit
since 2001 and her research interests includes Gender and Christian Theology and Caribbean Feminism . She holds a MSc. in Gender and Development Studies from UWI,
Mona, a Diploma in Human Resource Development from Jamaican Institute of Management, a Diploma in Education and a B.A. in English from the University of Guyana. Ms Castello is currently a candidate in the MPhil/PhD programme, Gender and Development Studies at the University of the West Indies, Mona.