Kavita Vidya Ganness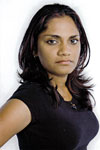 Kavita Vidya Ganness was born in Point Fortin in 1979 and remembers writing her first poem as early as nine years old. She often represented her primary school at many writing competitions. She kept writing throughout her teenage years whilst she attended San Fernando Government Secondary School and still writes regularly. She is currently doing a BA degree in Communication Studies at University of the West Indies in St. Augustine. She is social activist and does volunteer work for many non-profit organizations. She is an active member of the WUTT ,Writers Union of Trinidad and Tobago,as well as being an Abstinence Advocate with the Ministry of Education and Ministry of Health. She is a Remedial English Teacher at Barataria Junior Secondary School at present.

Kavita Ganness seeks to inspire poetry into the hearts of her readers and to enflame them with the desire to write.

She believes that poetry is a powerful tool for self-expression and is the paper-playground for the soul's pen.