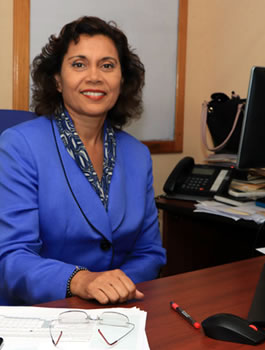 Manager, Business Development
Indira Jagassar is responsible for finding and competing for new funding and nurturing partnering opportunities. She identifies international sources of development financing and manages projects for success. Indira has 25 years' experience in the business of development and in directing proposals in international competitive grant bidding rounds.
She has worked with research teams to prepare proposals which have attracted several million dollars in funding to support farm-to-fork food security, food safety, one health, aquaculture health, biotechnology, utility scale renewable energy, tyre recycling, climate smart agriculture, human rights, coastal engineering, culture and creative sectors, climate change resilience, quarrying and plastics to prosthetics.
Indira has Bachelor's and Master's degrees in Agriculture and Agriculture Economics from UWI. She received her global business training from Maastricht School of Management (Netherlands Fellowship); Universidad Complutense de Madrid, Spain (Erasmus Mundus Mobility Programme); Cardiff Metropolitan University,UK; Impact Factory, UK; Evaluators Institute, USA; ITC ILO (Crowd Funding) and The Grantsmanship Centre, USA.