Undergraduate Degrees
Admissions
In addition to the Faculty's General Admission Requirements, the Department of Mechanical & Manufacturing Engineering requires that all applicants possess at least a C+ average in Cambridge GCE Advanced Level Mathematics & Physics (or a recognized equivalent) in order to qualify for admission.
Please note that due to the competitive nature of the application process, fulfillment of these minimum requirements DOES NOT guarantee entry into the department. Unsuitable applicants will not be acknowledged.
For further information please contact the Secretary of Undergraduate Affairs, Mrs. Marlene Fletcher-Cockburn.
Faculty Guide
Download the Undergraduate Information Guide (regulations & syllabuses)
Accreditation
B.Sc. (Hons) Programmes in the Department of Mechanical and Manufacturing Engineering have been accredited by the Institute of Mechanical Engineers (IMechE) of the UK to the BEng Level, en route to CEng.
Undergraduate Degrees by the numbers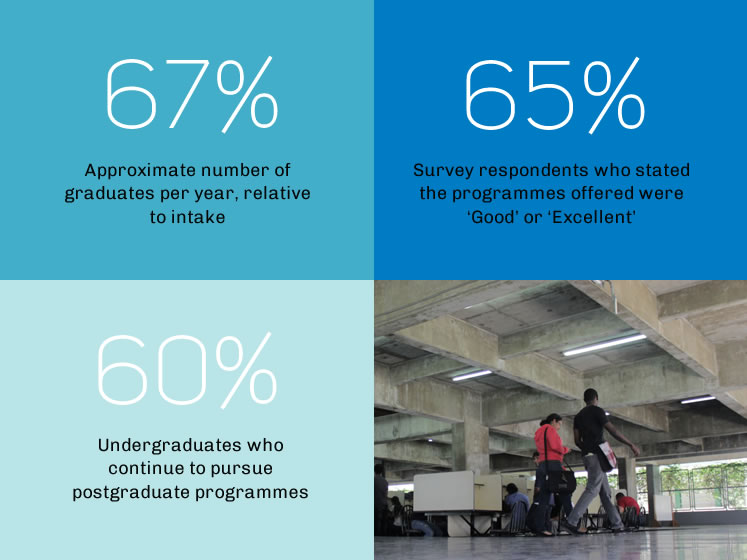 BSc in Mechanical Engineering
Students are required to complete 99/103 credits for the award of the BSc in Engineering.
BSc in Mechanical Engineering with a Minor in Biosystems
Students are required to complete 101/103 credits for the award of the BSc in Engineering with a minor in Biosystems
BSc in Industrial Engineering
The programme covers three years full time with 99 credits required for graduation. A year long project is required for graduation valuing 20% of the candidates final mark. The course is designed to develop the problem solving capability and technological creative capacity that the industrial engineer in this region so much requires.