About
Introduction
The Department of Creative and Festival Arts (DCFA) is a Department in the Faculty of Humanities and Education, The University of the West Indies, St. Augustine. The original Creative Arts Centre was established in 1986 through the initiatives of the late Dr. Pat Ismond, then Head of Literatures in English.In 2006, the Centre became a Department and has grown to offer courses and a place to explore the cultural expressions of Trinidad and Tobago and, by extension, the Caribbean. The DCFA strives to educate students in the creative arts at the highest level of academic, professional and technical accreditation available at, or through, The University of the West Indies.
The original Centre was housed at the premises of Agostini Street, St. Augustine. In 2000 the Visual Arts and Musical Arts Units migrated to buildings at Gordon Street. In 2017 with the completion of the new building at Cheesman Avenue, St. Augustine, the entire Department was reintegrated at Gordon Street and Cheesman Avenue.
The Department offers programmes at three levels:
Certificate.
Undergraduate
Postgraduate
"Sole to Sole" - Student Dance performance
At the undergraduate level, degrees are offered in:
Theatre Arts
Dance
Musical Arts
Carnival Studies
Visual Arts
Visual Arts Student Exhibition
At the certificate level, part-time courses are offered in:
Dance
Musical Arts
Theatre Arts - Practitioner's Certificate in Drama/Theatre in Education
Technical Theatre
Visual Arts
At the post graduate level, the programmes include
Postgraduate Diploma in Arts and Cultural Enterprise Management (ACEM)
Postgraduate Diploma in Education: Visual and Performing Arts (VAPA)
MA Creative Design Entrepreneurship (CDEN).
Special programmes are also offered:
Graded Examinations in Solo Steelpan Performances (May and October)
Republic Bank Pan Minors(Summer period only)
The Department also has thriving outreach programmes:
Arts-in-Action
The Cropper Foundation Caribbean Creative Writers Workshop
Festival Arts of Trinidad and Tobago (International)
Departmental Music Performance Ensembles
UWI Arts Afro-Caribbean Drumming
UWI Arts Chorale
UWI Arts Guitar Ensemble
UWI Arts Indian Classical Ensemble
UWI Arts Intermediate Steel Ensemble
UWI Arts Jazz Ensemble
UWI Arts Percussion Ensemble
UWI Arts Steel
UWI Arts Wind Ensemble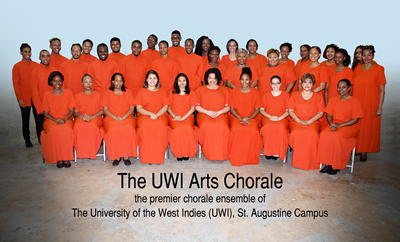 UWI Arts Chorale