Links
The Cropper Foundation
The Cropper Foundation is a not-for-profit philanthropic organisation committed to Caribbean development across a range of disciplines and sectors. A family foundation of modest resources, the Foundation seeks to catalyse activities in its various programmes by bringing together other like-minded individuals and organisations to work towards common objectives that contribute to the public good.
Support for Caribbean Writing
Through its Support for Caribbean Writers programme, The Cropper Foundation seeks to contribute to the literature of the region by creating opportunities for instruction, appraisal and intellectual debate for aspiring writers.
Undertaken in partnership with Department of Creative and Festival Arts, UWI a series of workshops have given emerging writers the benefit of the guidance of established writers and scholars like Merle Hodge, Funso Aiyejina, Rachel Manley, Earl Lovelace, and Ken Ramchand.
http://www.thecropperfoundation.org/
National Drama Association of T & T (NDATT)
NDATT is a 'facilitator' - an umbrella non government organisation (NGO) of member companies, groups and individuals. Among the aims and objectives of the Association (extracted from the preamble of its constitution) are to:
foster an interest, develop and help facilitate all aspects of the art of drama in Trinidad and Tobago
protect and ensure the freedom of expression for dramatic artists
promote all aspects of drama
NDATT facilitates government support, provides letters of endorsement to its members, helps with censorship issues and remains dedicated to the construction of a national theatre.

The Association holds regular meetings open to the membership allowing all players, from producers to theatre lovers, to meet and discuss the issues surrounding the trade. This enables an Executive Committee to hear concerns and desires of members in order to make informed management and policy decisions.
The day to day business of the association is managed by its Secretariat ...
Mailing Address - 55 Eastern Main Road, St James; Telephone (868) 622-6344
http://www.drama.org.tt/
TTW – Trinidad Theatre Workshop
The Mission
The Trinidad Theatre Workshop is a Registered Non-Profit Organisation (#T2085) that is committed to:
Presenting the highest quality and professional standards possible in theatre, musical productions, educational programmes and related services;
Being a teaching organization with a major dedication to educating students and audiences as well as training artists, artisans and administrators;
Leading in the artistic development of Trinidad and Tobago's cultural experience by extending artistic programmes to our community;
To bringing world class, relevant and highly diversified productions to all segments of our society, placing special emphasis on encouraging the creation and development of new West Indian works.
Queen's Hall
Queen's Hall, The grande dame of the theatre in Trinidad, is a state facility built in 1959 through the efforts of the music community and partially funded by the Government of Trinidad & Tobago.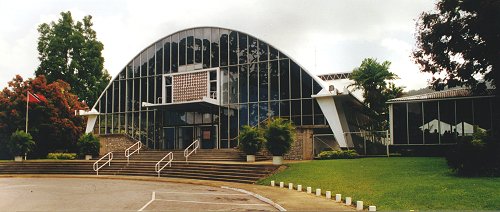 Designed by architect Colin Laird, it is a multi purpose facility to accommodate theatrical presentations and various community activities. The nation's talented artists have performed on her stage. The Hall is centrally located in Port of Spain the capital of the Republic of Trinidad & Tobago on 3 1/2 acres of land.. Its eminent neighbours are the President on one side and the Prime Minister on the other. The Hall is available to organisations and individuals at a reasonable rental fee.

Queen's Hall was incorporated by an Act of Parliament (No 20 of 1969 and amended by Act No 12 of 1986). The Hall is administered by a Board of Management that is appointed by the Minister responsible for Culture. There is a small administrative and technical staff.

Queen's Hall is a state facility build in 1959 through the efforts of the music community led by Mrs May Johnstone, a music teacher and partially funded by the Government of Trinidad & Tobago. It is designed as a multi purpose facility to accommodate theatrical presentations and various community activities including sport.

P.O. BOX 3005
Tragarete Road Post Office
PORT OF SPAIN
TRINIDAD
Tel: (868) 624-1284
Fax: (868) 624-2619
http://www.patronsofqueenshall.com/