Undergraduate Programmes
Degree in Theatre Arts
Candidates should normally:
have obtained a B+ average in the Practitioner's Certificate in Drama/Theatre-in-Education to enter Year I
have two GCE A' level/CAPE passes.
The Theatre Arts Units offers a three year programme (full time or part time)
Bachelor of Arts in Theatre Arts and two one-year certificate programmes:
Certificate in Technical Theatre Production and Practitioner's Certificate in
Drama/Theatre in Education. All three programmes allow students to develop
their knowledge and build their skills in performance related activity through
practice and research. Students who have emerged from the CSEC examination as
well as mature students will benefit from either of the two Certificate programmes.
Those who wish to further enhance their professional careers or wish to continue
on to postgraduate study will benefit from the BA in Theatre Arts.
Courses within the Certificate in Technical Theatre Production include:
Scene and Costume Production; Sound Design; Lighting Design; Production
Management and Marketing; Stage Management.
Courses within the Practitioner's Certificate in Drama/Theatre in Education include:
Role Playing and Improvisation; Strategies and Techniques of Drama/Theatre
Teaching; Stagecraft; Theatre for Children and Young People
Courses within the BA in Theatre Arts include:
Performance I/II; Elements of Drama; Directing; Caribbean Drama; Western
Theatre History; Asian and African Theatre; Playwriting; Festivals, Drama and
Society; Production; Caribbean Performance; Theory and Practice of Educative
Our graduates teach in many schools, run production companies, are members of
the National Theatre Arts Company, and participate in many national theatre
productions. The Theatre Arts Unit ensures that you will be able to contextualise
your experience to take part in the myriad of national, regional and international
activities as a practitioner, director, educator, playwright, theatrical technician,
researcher, and artistic entrepreneur- enabling you to find your artistic voice.
For further information contact
Tel: (868)-663-2222 | (868)-645 0873
Fax: (868)-663-2141
FIND US ON: facebook.com/UWI.DCFA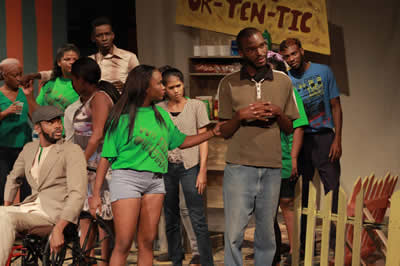 Student Theatre Arts Production 2017-
'Stick-ey Desires'