Outreach Programmes

About Arts-in-Action:
Since 1994, the Department of Creative & Festival Arts (DCFA) has embarked upon a programme of public education, entitled Arts-in-Action (AiA). The brainchild of former Heads of Department, Dr. Dani Lyndersay and Mr. Rawle Gibbons, this programme seeks to extend the work and mission of the DCFA into communities and institutions throughout, in the first instance, Trinidad and Tobago, and subsequently throughout the Caribbean region.
The philosophical basis of its work has been that the arts have an indispensable role to play in the process of social and attitudinal change and development. Today, Arts-in-Action is recognized as the leading Applied Creative Arts company in the Caribbean Region. We have coined the term Applied Creative Arts (borrowing from Applied Theatre) to explain the ways in which we specialize in using creative and performing arts disciplines (e.g. theatre, dance, music, visual arts, storytelling, spoken-word, Carnival Arts etc.) in developing educational content for a wide range of audiences. From primary and secondary school interventions to community workshops and corporate boardrooms, AiA uses arts-based techniques to treat with issues ranging from Change Management to HIV / AIDS Awareness to Mathematics. The company's vast experience, especially working in a social development/education capacity with organisations such as UNDP, UNWomen, NACC, the Ministries of Gender, Social Development and National Security, bpTT and BHP Billiton, has forged it into a unique social response vehicle which has made it into an effective first-responder in the fight against violence against women, child abuse and child sexual abuse, gender-based violence, youth crime and youth violence.
As a self-funded, not-for-profit unit of the Department of Creative and Festival Arts, UWI, Arts-in-Action draws on the expertise of its members, who are all facilitators (students and graduates) of creative arts programmes at UWI. Arts-in-Action also draws on the vast knowledge and skills base that its unique position as an entity within the UWI affords it, completing well over 5,000 interactive performance workshops across the country, the Caribbean, the USA and the UK, dealing with pertinent societal issues to over half a million participants.
Arts-in-Action has also successfully transferred this highly effective methodology to other media, e.g. radio and television, with the production of entertaining and educational programmes such as:
"YouToO!" – a tourism education video for children which was produced by Tourism and Industrial Development Company (TIDCO),
"The Rough Season" – a Caribbean audio soap opera (in English and now Spanish) on hurricane disaster preparedness produced for Pan American Health Organisation (PAHO) and The Association of Caribbean States (ACS, et al),
"The Right Move"- a thirteen-part video series for primary and secondary schools (AiA/IMDU- Ministry of education),
"That's Life"- an eight part video training tool for OJT training, Ministry of Tertiary Education Life Skills Unity,
Arts-in-Action's Wordsmiths
Along the way, Arts-in-Action has also earned a number of significant awards, accolades and partnerships. Some of these are listed below:
XI FITA '98 Festival Internationale di Teatro Aruba, Best Production.
BP AMOCO Leaders Award 1999: Environmental Category.
CANADA FUND Award for HIV/AIDS Awareness, 2000-2003.
2001 UWI Vice-Chancellor's Award for Excellence.
2002 Trinidad Express Newspapers Merit Award to Youth Group or Organization.
2002-03 Tidy T&T Outstanding Project: Environmental Literary Category.
2003 Green Leaf Award – Environmental Management Authority (EMA).
2003 bpTT Spirit of Community Awards – The Environment Category.
2003 bpTT Spirit of Community Awards – Arts & Culture Category.
2004 Inter-American Development Bank (IDB) Youth / Master Card Entrepreneurship Award (Culture).
2004 bpTT Spirit of Community Awards – Youth in Education Category.
2005 UNDP Small Grants Programme Award for DRAMATHICS.
2007 Salzburg Fellows – Salzburg Seminars 446.
2008 UNICEF grant for 'Apprentice Theatre' (done in partnership with the National Commission for UNESCO).
2009-2011 IGDS UWI, Coalition Against Domestic Violence, ASPIRE-Project Research Partnership and Applied Creative Arts Research Instrument Design and Implementation- "Break the Silence".
2012 cited as significant contributor to Drama Education, "History of Drama Education: A Search for Substance", Gavin Bolton, Volume 16 of the seriesSpringer International Handbook of Research in Arts Education pp 45-66.
2014/2015 UNDP partnership for National Security Consultation St. Kitts and Nevis.
2015 UNDP partnership National Security Consultation St. Lucia.
2015 GEF SGP UNDP Grant: "Care and Love for the Environment and Nature (CLEAN)", Environment Protection and Heritage Reclamation.
2016 UNWOMEN sponsored training in Gender Advocacy, Trainee-Facilitator, Brendon Lacaille, Arts-in-Action.
2016 UNDP partnership National Security Consultation St. Vincent and the Grenadines.
2016 UNWOMEN "Applied Arts Training For Theatre Practitioners" in Dominica using Arts-in-Action Educative Theatre model.
2016 UNWOMEN GBV TOOLKIT Certification, Gender Advocacy, Jamaica, December 11-19th.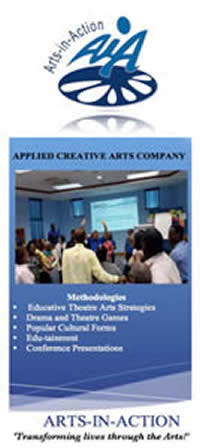 You can read more about Arts-in-Action at the following:
http://caribbean-beat.com/issue-83/ready-action#axzz3aufazFvx
http://www.facebook.com/artsinactiontt
Contact Info: Call 289-4242 or email@artsinaction.org