Dance
Degree in Dance
Candidates should normally:
have obtained a B average in the Certificate in Dance and Dance Education to enter Year I.
have two GCE A' level/CAPE passes
pass an audition/ interview
The Dance Unit offers a three-year (full time only) Bachelors of Arts in Dance
and a one-year Certificate in Dance and Dance Education. Both programmes
facilitate students in developing their performance technique and gain valuable
skills in choreographing, researching, and teaching dance.
BA students have the opportunity to explore dance through courses such as:
Caribbean Dance | Ballet Technique | Modern Dance Technique
Dance Education | Dance Injuries and Conditioning | Indian Dance
Dance Composition | Dance History | Introduction to Movement Analysis
The Certificate in Dance and Dance Education equips students with a foundation in dance that
allows them to teach to a national standard and build their dance technique.
The BA in Dance provides students with the practical, cultural, and theoretical
knowledge of dance required to develop their own artistic practice.
Performance opportunities exist throughout the year and students perform for
campus events as well as public shows.

Certificate students develop their dance practice through courses such as:
Performance Techniques | Teaching Methodology | Caribbean Dance History
Dance Education | Caribbean Folk Dance | Teaching Practice

Festival Dance Ensemble
Our graduates teach in local schools, run dance studios, perform with national
artists and companies, and choreograph for festivals. Completing the
programmes enable our students to work as dance educators and practitioners,
or pursue further dance studies. The Dance Unit at UWI ensures that you will
find your creative voice as an artist or educator to share your passion for dance.
For further information contact
Tel: (868)-663-2222
Fax: (868)-663-2141
Email: dcfa@sta.uwi.edu
FIND US ON: facebook.com/UWI.DCFA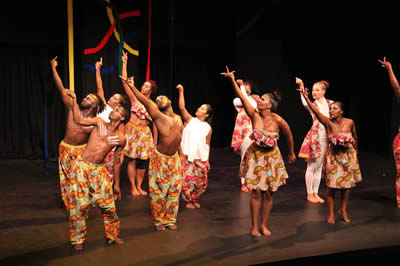 Student Dance Concert